EPIPHONE AND GIBSON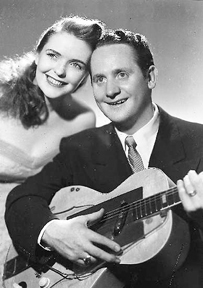 In the early '50s, Epiphone's former champion and favorite late night tinkerer Les Paul became a household name with a television show, a radio program, and chart-topping hits, all played with his name-brand Gibson Les Paul. Les had been perfecting his solid body guitar design in the Epiphone factory and when Fender emerged with their Telecaster, Gibson President Ted McCarty made Les Gibson's first solid body electric guitar endorser.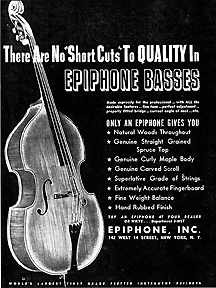 As Epiphone's fortunes continued to decline, Les suggest McCarty reach out to Epiphone. McCarty took the advice and reached out to Orphie, expressing Gibson's interest in Epiphone's critically acclaimed upright bass division which Gibson had not picked up again after World War II. When Orphie replied in 1957, McCarty was offered the entire Epiphone company, including the remaining inventory of the Philadelphia factory, for $20,000. McCarty accepted on behalf of Gibson. The Stathopoulo family was out of the instrument business.
Though McCarty's original intention was to bring the Epiphone bass models into the Gibson catalogue, by 1957, he changed his mind. Instead, as McCarty wrote in a memo that year, the Epiphone brand would be revived with a new line of instruments.
McCarty's marketing plan was to offer Gibson-made Epiphones to dealers who were keen to win a Gibson contract, but had not yet proven themselves as profitable dealers. (The right to sell Gibson models was hotly contested between dealerships at this time). It was the perfect solution. Dealers would get a Gibson-quality product without treading on the toes of dealers who already sold the Gibson line. The entire Epiphone operation was relocated to Kalamazoo, Michigan. Epiphone was back in business.
Save
Save